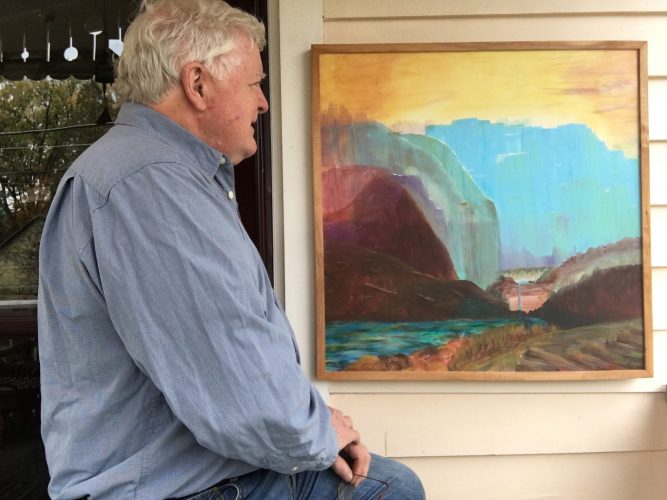 35 Bradley Street
Trumansburg, NY 14886
607 280 8993
Instagram: #donellisartist
Facebook: @donellisartist
Website: www.donellisartist.com
I have made and repaired things since early childhood, everything from airplanes and boats, to passive solar houses and architectural models, to journals and drawings of many types. Today my work is outdoor mobiles, acrylic paintings, and color pencil drawings.
Years ago while living in Germany I took a university-level history of art course with Frau Doctor Fester, a very demanding German teacher from the old school. She had been the house warden for the Goethe House during World War II. The course met three nights per week and then two Saturdays per month we had a field trip to one of Europe's important museums. I took a second semester. This was my beginning of seeing art and architecture in any structured way.
 After careers in architecture and digital technology I am fortunate now to have time for concentrating on art. Studio days include acrylic painting, drawing with color pencils. Shop days produce outdoor mobiles, picture frames, and occasionally an architectural model. I exhibit continuously in the region; am involved in the Greater Ithaca Art Trail, the Cayuga Artist Collaborative in Trumansburg, the Peacock Gallery in Corning, and especially, in the State of the Art Gallery in Ithaca.
The messages in my art reflect established artists who are "alive to their contemporary social forces", Jacob Lawrence, Kara Walker, Pablo Neruda, and Joy Harjo. Yes, the art of poetry pushes my visual art in many directions.
Several artists influence the form of my art, James Labadour, and Gabriela Gil. I have looked a long time at, Emily Carr, Sandro Boticelli, and Vasily Kandinsky. I had looked only superficially at  Alexander Calder before launching my sets of mobiles. I have studied his work carefully since.
My mobiles borrow the wind and sun, the rain and snow, to express place. They are designed to be among trees, adding their form, color, and motion. Their very presence in snow and ice expresses the winter lives of Northern people. Contrary to established understandings of mobiles, several of these outdoor mobiles are more than just "happy events." They are emotive.
My paintings and drawings also stem from place and society. They divide into series, Autobiographic, Finger Lakes Drawings, a series inspired by quotes, usually from poetry, and a few other themes, different in message, or in different media.
Place and society permeate my art. Current explorations span from the American indigenous peoples, to the underground railroad, to the Rights Movement, and especially to the social impact of our ever-changing local, rural economies. In a century when rural and urban life are entrenching themselves in their differences it seems worthwhile to express through art.
We need to see that until recently all life was rural, or nearly rural; and we all need to hear the rocks and trees, winds and stars of this ancient land speaking to all people as they speak even now to those who came here long ago. This is my work.